Archive for July, 2009
Since the inception of this site, Snuggie owners have been submitting pics of their Snug pooches. With the announcement of Snuggie for Dogs, there simply must be a SnuggieDogSightings.com. Woof!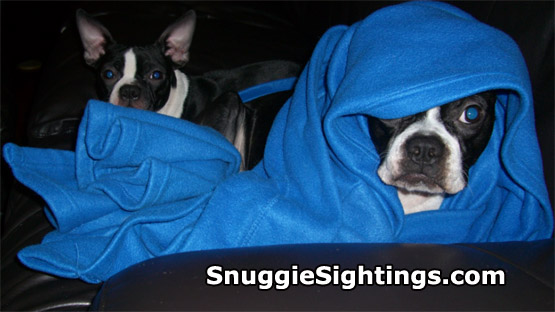 Here's a previous submission to this site that ran back in March. You can submit a picture of your dog in a Snuggie of any kind, or the new Snuggie for Dogs to be featured on the new site – SnuggieDogSightings.com. Check it out…and woof!
UPDATE: I ended up discontinuing this website because dogs had a difficult time sending emails.
Update 7/30/09
For Gawker Readers, Google Trends Visitors, etc. – Check out Snuggie For Dogs
The Blanket with Sleeves is now coming to a dog near you! Check out the Snuggie For Dogs.

The Snuggie for Dogs gives your pooch special powers.
Labby, Camilla and Stav take the Snuggie to Game 3 of the State of Origin, played at Suncorp Stadium in Brisbane recently.
Click here for a lot more Snuggie pics on B105.com.au
Labby and Stav hoist a brew while staying cozy warm in their Snuggies. Camilla opts for the less fashionable (and less fun) leather jacket – and forces a smile. Inside, she suffers from extreme Snuggie envy. Camilla needs a Snuggie!
Earlier in the day, Stav wrapped the famous Wally Lewis statue outside of the Suncorp Stadium in a maroon Snuggie.
Great work, Stav. Now all Wally needs is the complimentary booklight!
Is it just me, or is that statue smiling bigger now that he's wrapped in the warmth of the Snuggie??