Archive for February, 2010
Dozen bottles of booze on the wall? Check.
Groovy ottomon? Check.
Solid Gold Dancer Headband? Check.
Leopard Snuggie? Here come the ladies…


Triple RAWR, Chris.
Michael is an extremely cool guy. Not only does he and his wife wear Designer Snuggies on Let's Make a Deal, he alerts me to the video footage on the same day. That's Snuggie diligence. You simply have to watch the clip to see how it turns out. Go to 8 minutes into the video to see if Snuggie Karma comes through again.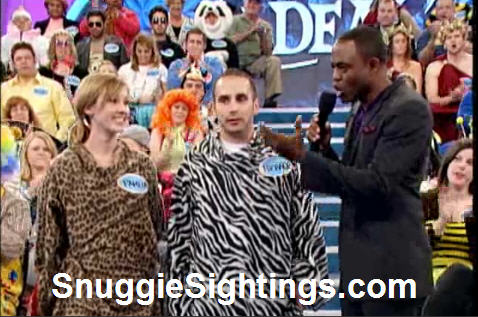 Cavs Snuggie – NBA Snuggie
Yahoo Sports reports that the Cleveland Caveliers' March 5th game against the Detroit Pistons will feature everyone in the stands wearing limited edition Custom Cleveland Cavaliers Snuggies before the game's tip-off.
Cavaliers Snuggie Sighting
Duplicate the above image roughly 20,000 times (while removing the groovy leather couch) and I have to say this is going to be visually hilarious. This will be one time that LeBron won't be able to outshine those in the crowd.
It is now obvious that the Cavs are pulling out all the stops in trying to keep LeBron beyond this season. Who would want to play in New York when you can play in Cleveland in front of 20,000 people in Snuggies?
While NYC may be the city that never sleeps, this Snuggie record attempt will make Cleveland the city that never shivers.
I'm predicting it now – Snuggie Karma will lead to the Cavs winning the NBA title this year. The turning point – March 5, 2010 – at the 20,562 seat Quicken Loans Arena turning into a sea of Snuggies. (I think I couldn't keep a straight face trying to shoot free-throws, with that much fleece distracting me.)