Archive for the 'Snuggie Bar Crawl' tag
The first Summer Snuggie Pub Crawl was held on August 6, 2009 in the thriving metropolis that is Marshfield, Wisconsin.

The picture above gives you just a glimpse of what we will soon behold as dozens (hundreds?) of cities host
Snuggie Pub Crawls
this Fall and Winter. Gone are the days of the 'Blue Only' complaints when it comes to Snuggie.
Want to host a Snuggie Pub Crawl in your city? Here is How To Organize and Host a Snuggie Pub Crawl, and here's a list of Upcoming Cities and Dates.
UPDATE: 3/20/09 – The Original Snuggie Pub Crawlers from Cincinnati now have an Official Website – Go to SnuggieShuffle.com to see the latest news related to these Snuggie Visionaries.
OLD UPDATE from 2/24/09 – Check out the 'Cincinnati Six' on our new site, SnuggiePubCrawls.com. Here is the announcement from earlier today. These guys are finally going to get the credit they're due.
It is a date that will go down in history. Six men made one small step for themselves…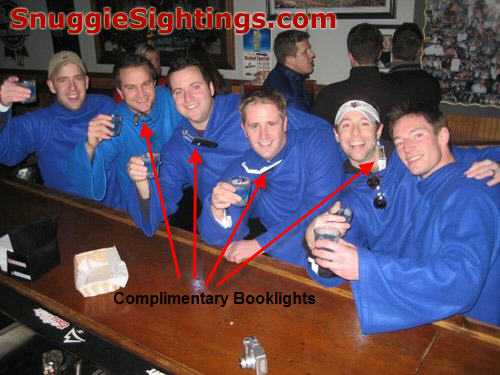 …but one giant leap for the Snuggie Nation. We now have the official date of the First Snuggie Pub Crawl.

On this historic night, these 6 Snuggie Pioneers bundled up in their Snuggies, braving the elements.
This night proved historic in many ways. Not only was it the first Snuggie Pub Crawl and the first Snuggie Fight, the first symptoms of
Snuggie Restless Arm Syndrome
arose.
Look for their website, coming soon. You have been warned. These guys are going to be huge.
You last saw the Snuggie Pub Crawl guys here. The guys are back, complimentary booklights still firmly attached.

Here's the previous Snuggie Pub Crawl photo, with one extra member.